Plastic dip cups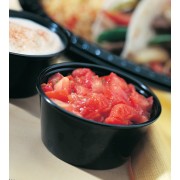 We offer the widest selection of plastic dip cups for any occasion. Almost all of them are made from polystyrene, a very durable material suitable for use in -30°C to 85°C. An exception are transparent cups and lids made of PET plastic.
All cup sizes are primarily intended for serving different dips, however your imaginations is limit when it comes to their use – they can be used for different french fries dips, restaurant takeout, giving free samples, ice cream, shooters…
For most of the cups you can order suitable lid as well which allows safe transport and storage.
No products were found matching your selection.